Babuji was a lifelong Satyagrahi and never lost a chance to support what was true and right in his heart-mind, even if it meant that he would lose political power, be ridiculed, punished or even imprisoned. In fact, he was imprisoned for over 3.5 years in his lifetime during individual and collective civil disobedience before Indian independence and during Indian emergency (बाबूजी के शब्दों में स्वतंत्रता आंदोलन में उनकी हिस्सेदारी की व्याख्या यहाँ पढ़ें).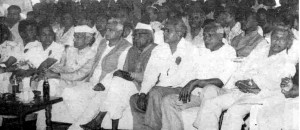 Babuji received permission to participate in the Individual Civil Disobedience Movement in 1941 by Gandhiji because he already practiced to eleven vows  (truth, fearlessness, non-violence, non-stealing, non-possession, physical labor, swadeshi [empowering local communities], self discipline, control of palate, equality of religions and castes) which were considered pre-requisites for individual satyagrahi. He was arrested on 6 March 1941 from his native village Sikanderpur Majra and sentenced to one year rigorous imprisonment under the erstwhile defense of (British) India Rules. Prior to this satyagraha, in 1939, he was seriously injured and even assumed dead at village Asaudha in Rohtak when hundreds of volunteers of freedom movement were attacked by the followers of Zamindara League who were armed with local metallic weapons including bhalas, barchhas and gandasas.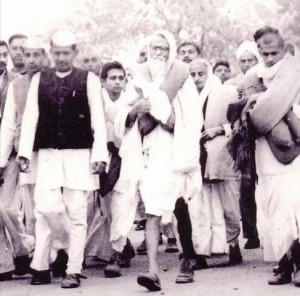 He also participated in the Quit India Movement & was arrested on 11 August 1942 from district court in Karnal. He was detained in the Old Central Jail, Multan (now in Pakistan) for ~1 year. After his release, he started practice as an advocate at Karnal but continued active participation in the freedom movement. He was elected General Secretary of District Congress Working Assembly which had been declared illegal by the British Government in those times.
 He edited a weekly newspaper Balidaan during 1948-52 while he led old tenant's movement in Karnal. This agitation succeeded and Punjab Government had to issue instructions to restore the lands to those old tenants who had been uprooted earlier. Before being inducted in Kairon ministry, Babuji was engaged in Bhoodan Movement of Vinoba Bhave in entire Panjab and donated one sixth of his income as "sampatti daan" for several years.
Babuji also took active part in the movement launched by Sh. Jayaprakash Narayan during the year 1973-75. He was the convener of Karnal District's Sampoorna Kranti Abhiyaan. After the proclamation of emergency in June 1975, he was arrested immediately and was detained for more than 19 months in multiple far-off jails of Haryana. He was also arrested during "Nyay Yudh" in protest of 1985 agreement to divide Satluj-Bias river water between Haryana and Punjab (हिंदी जीवनी में और व्याख्यान हैं; यहाँ पढ़ें).
©BMCJ Any material on this website may not be published, broadcast, rewritten or redistributed without prior written permission.