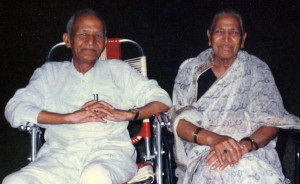 Babuji was born to Lala Murari Lal Jain and Smt. Dhankaur in 1915 and grew up with one younger brother (Ami Chand) and three sisters (Sunehari, Vidya and Dhanpati). He used to engage in several manual tasks as a child including cutting and bringing fodder for their domestic livestock to help his lower middle class family. Babuji used to tutor other kids to support his own education. While he was a student in Gohana high school, he often stayed with his two paternal aunts (Buas) whose pious lifestyles had a great Impact on him.  Even when he had to walk for 5 miles each way to go to high school, he topped all his examinations from primary to high. He relinquished his financial scholarship in favor of a fellow F. Sc (equivalent to 12th grade) student from poorer background whom he considered to be more deserving and supported himself through tutoring (taking tuitions). Later, he went on to become a gold medalist in Law at Punjab University, Lahore (now in Pakistan).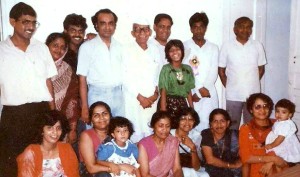 Babuji was married at a young age of 17 years in 1932 to Sharbati Devi of Fazilpur Village (Sonipat) who was the eldest and only sister to six brothers. Whenever babuji was in jail, she used to move in with her parents and brothers who fondly took care of babuji's children. His children saw him as a role model who instilled moral values in those around him by setting up an excellent example. He used to get up between 4 and 5 AM in the morning, wake up his children while singing, 'Uthh, jaag musaphir, bhor bhai, ab rain kanha jo sovat hai-' ('O pilgrim! It is now dawn, awake!; why are still asleep, the night has passed') . In spite of being devoted to professional, social and national duties, he took the time to attend to their physical, material and emotional needs. He used to share warm and high quality moments with his children during family dinner and also morning and post-prandial walks (हिंदी जीवनी में और व्याख्यान हैं; यहाँ पढ़ें).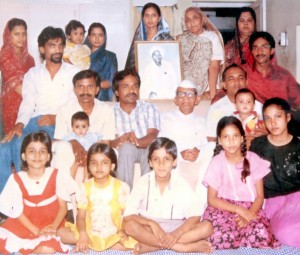 His daughters fondly recall that he never discriminated against daughters and gave them independence to choose their life paths, sometimes against the wishes of their mother.  He learnt Sanskrit when he was in jail during emergency in 1975-77 to be able to teach it to his youngest son during their short visiting times in jail. He also took charge of fondly supporting and advising his younger brother Amin Chand's family after his death.
When he was finance minister in 1967, he lost his 18 year old bright and compassionate son Rajender who drowned while swimming at Punjab Engineering College in Chandigarh. His wife passed away in 1987 when he was a cabinet minister (Deputy Chairman, Planning Board) in Haryana. His eldest son Jagdish passed away in 2013 years ago at the age of 76.  He is now survived by four daughters (Savitri Gupta, Saroj Jain, Dr. Swatantra Jain and Dr. Sushil Jain) and two sons (Col. Yogesh Jain and Adv. Ashok Jain).
©BMCJ Any material on this website may not be published, broadcast, rewritten or redistributed without prior written permission.