After independence, babuji was a cabinet member within several State Governments as well as a member of Lok Sabha. Soon after independence, he was elected General Secretary and later President of the District Indian National Congress Committee Karnal. He was also General Secretary of the Kasturba Gandhi National Memorial Fund Committee and the Gandhi National Memorial Fund Committee in 1948-49.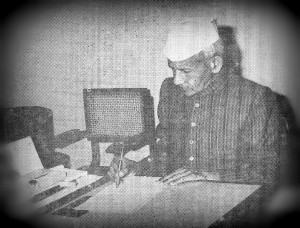 In the year 1952, he was elected to the Punjab Legislative Assembly from Samalkha. In 1956, he was included in the Cabinet of Partap Singh Kairon State Government as Excise & Taxation and Public Works Department (PWD) Minister.
In 1957 he was elected Member of Indian Parliament from Kaithal Parliamentary Constituency. He spent a mere Rs. 4000/- on his election campaign. As MP, he soon came in the good books of Prime Minister Jawahar Lal Nehru and was made member of several important committees appointed by the Union Government such as Direct Taxes Advisory Committee, Small Scale Industries Board and Cooperative Farming Board etc. He was also convener of Finance Standing Committee along with Sh. Morarji Desai, who was Finance Minister of India at the time. After the formation of Panchayati Raj Committees in Rajasthan & Andhra Pardesh, Babuji was made one of the member of five member committee constituted by Nehruji, to look after the affairs of Panchyati Raj Committees in these States. This committee submitted its report to the Prime Minister after visiting Rajasthan, Andhra Pradesh and Gujrat.
During 1965-67, Babuji actively championed and directed the campaign for creation of a separate Haryana State. He was the General Secretary of All Party Haryana Action Committee which was presided by Ch. Devi Lal. After the creation of Haryana in 1966, he was elected to the state assembly from Gharaunda on Congress Party ticket. Soon after, he quit the Indian National Congress party because of his disillusionment and as a protest against Bhagwat Dayal Sharma who was chosen by the party as the first Chief Minister of Haryana despite Sharma's severe opposition to the idea of formation of Haryana. Later, when Congress lost majority vote, Jain joined Vishal Haryana Party and the cabinet of Rao Birender Singh as Finance & Excise and Taxation Minister (हिंदी जीवनी में और व्याख्यान हैं; यहाँ पढ़ें).
After his release from jail during the Emergency, he was elected to the Haryana Assembly on Janata Party ticket from Samalkha in June 1977 and served as an astute Finance Minister in the cabinet of Ch. Devi Lal starting in December 1978. After his re-election in the beginning of 1980, Babuji was elected as Leader of Opposition in Haryana Assembly and continued in this capacity till May 1982.
He resigned from the post of Deputy Chairman Planning Board in July 1989 on account of his difference of opinion with the then Chief Minister, Ch. Devi Lal on various issues including Sh. Om Prakash Chautala's interference and his role in Meham constituency of Rohtak district in Haryana against Mr. Dangi. After his resignation, Babuji continued his self-study and reflective analysis of the situation of nation's political, religious and educational systems. Specifically, he participated actively in the fight against Mr. Chautala, renewed his efforts to improve the library system in the country, studied the root causes of religious riots and also the pros and cons of parliamentary vs. presidential forms of governments across the world.
©2015 BMCJ Any material on this website may not be published, broadcast, rewritten or redistributed without prior written permission.