Babuji was deeply concerned about improving the education system of the nation. Among other things, he worried that villagers don't have access to educational materials. He considered establishment of libraries as the most important factors necessary to transform the education system.
In 1991, Babuji founded Lala Murari Lal Charitable Trust in honor of his father with the purpose of establishing a library in his native village Sikanderpur Majra. This library is regarded as one of the best libraries in rural Haryana. After 1997, his family and supporters changed the name of the trust to Lala Murari Lal Mool Chand Jain Charitable Trust.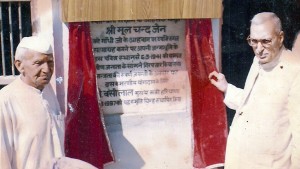 The objective of this trust is to further the work and dreams of Babuji, including by
bringing dynamism and new spirit in the library movement keeping in view the changing attitude, needs and requirements of the new generation;
establishing and maintaining public libraries and reading rooms for spreading general awareness;
empowering women in every dimension of  their life by providing various services;
working for the promotion of educational, cultural and creative activities; and
undertaking vocational and skill development programs for enhancing rural employment opportunities.
Along with the residents of his native village, the trust celebrates the birthday of Babuji as Library Day every year. In 1997, Bansi Lal (estwhile Chief Minister of Haryana), presided over the library day and laid a stone inscribing the historical incident of babuji courting arrest from his native village's courtyard as a part of individual satyagraha against British rule on his 82nd birthday, about a month before babuji's death. In 1998, Smt. Suman Krishna Kant, Wife of Vice President Krishan Kant presided over his birthday celebration in his native village. Media coverage of library day over several years is available in the archives section.
To meet the trustee members and the current governing body of this trust, please click here.
©2015 BMCJ Any material on this website may not be published, broadcast, rewritten or redistributed without prior written permission.