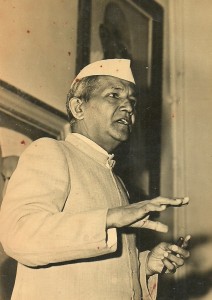 Babu Mool Chand Jain, lovingly called Babuji, was a freedom fighter in the Indian independence movement, Indian statesman and parliamentarian, lawyer, satyagrahi social activist, and a kind family-man dedicated to the ideals and principles of Mahatma Gandhi. His contribution to the freedom movement, value-based politics, to the formation of Haryana as well as to the cause of downtrodden and oppressed will remain ever fresh in public's memory.  He worked closely with erstwhile Prime minister Jawahar Lal Nehru as a member of Parliament, served as a cabinet minister during multiple periods in both Joint Punjab and Haryana. He was imprisoned several times including during both pre-independence and post-independence struggles. Because of his visionary philosophy, statesmanship and ethical conduct, he was often referred to as "Gandhi of Haryana" by his colleagues and coworkers.
His biography "राजनीती के संत स्वतंत्रता सैनानी बाबू मूल चंद जैन" Rajniti ke Sant Swatantrata Sainani Babu Mool Chand Jain was released on October 10, 2017.
As a child, Babuji had to walk for 5 miles to attend school but topped every level of examination and went on to become a gold medalist in Law at Punjab University, Lahore (now in Pakistan). Despite family responsibilities and resistance from his parents, he immersed himself into non-violent freedom movement in 1937. In 1939, he was left unconscious during Asodha Satyagraha Movement by the assailants who assumed he had died. With permission from Gandhi, in 1941, he courted arrest as an individual satyagrahi. After his release and at the encouragement of his fellow freedom fighters, he moved to Karnal in 1942 to rejuvenate freedom struggle among youth in a completely new area of Haryana. When imprisoned as a part of Quit India Movement, he was sent into solitary confinement twice – once for using a pen and again for singing patriotic songs! These are glimpses of the first thirty years of life of Babu Mool Chand Jain (lovingly addressed as Babuji) who was born into a lower middle class family in Haryana.
After India attained freedom on 15 August, 1947, Babuji helped peacefully rehabilitate thousands of refugees from Pakistan in Karnal District.  From both within and outside the state or national governments, Babuji continued his visionary journey to build harmony,raise voice on behalf of weaker sections of society and create humane solutions to complicated socio-economic and political problems. He remained deeply involved with the Bhoodan and Sarvodaya movements.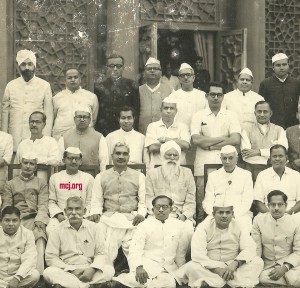 Babuji was lean in appearance but was a man of iron will who did not hesitate to speak up against the most politically powerful associates. While he was a cabinet minister in Joint Punjab and Haryana, he publicly protested against erstwhile chief minister of Punjab, Partap Singh Kairo as well as against his closest associate, Chief minister (and later Deputy Prime Minister) Ch. Devi Lal when they strayed from his core guiding moral principles. He lived his entire life like a 'karam yogi". He chose to sit at the feet of spiritual and religious leaders not to seek their blessings but to make an earnest appeal to them to play a crucial and effective role in eradicating social evils.Towards the end of his life, he undertook the work of protecting country's economic, social and environmental freedom from the institutionalized greed of corporations. In his last year, after his return from the United States, he energetically spoke about presidential form of government as a possible solution to Indian problems of corruption, criminalization and totalitarianism in politics and instability of central and state governments.
2015 is Babuji's birth centenary year. Members of LML Mool Chand Jain Charitable Trust, birth centenary celebration committee and his extended family welcomes everyone to learn more about his life as a lawyer, his philosophy, political and moral leadership as a freedom fighter and civil disobedience leader in this commemorative year (हिंदी जीवनी यहाँ पढ़ें). Photographs, letters, documents and media reports related to Babuji are being continuously added to archives section. Everyone including journalists, local and national policy-makers and former colleagues is warmly invited to share stories, letters and photographs related to Babuji's life. Please contact us (click here) to share your memories by Babuji.
©2018 BMCJ Any material on this website may not be published, broadcast, rewritten or redistributed without prior written permission.